What is Reimagining Eating Disorders 101?
Reimagining Eating Disorders 101 is a comprehensive self-paced online course for healthcare providers, mental health and eating disorder advocates/activist, and anyone seeking to learn more about eating disorders from a holistic lens. Most eating disorders education is taught through a westernized medicalized lens. This course is different because it offers a holistic reorientation to conceptualizing eating disorders, and integrates anti-oppressive, trauma-informed, decolonial, and embodied based approaches to understanding and healing eating disorders. This course is accessible to novice and advanced learners! Alishia brings in her expertise from social justice activism, somatic therapy, cultural and ancestral based wisdom to address personal and cultural factors that contribute to imbalance within the body. She centers her professional work within the field of mental health therapy and eating disorders and also amplifies the lived experiences of her clients, colleagues, and comrades within the professional sphere.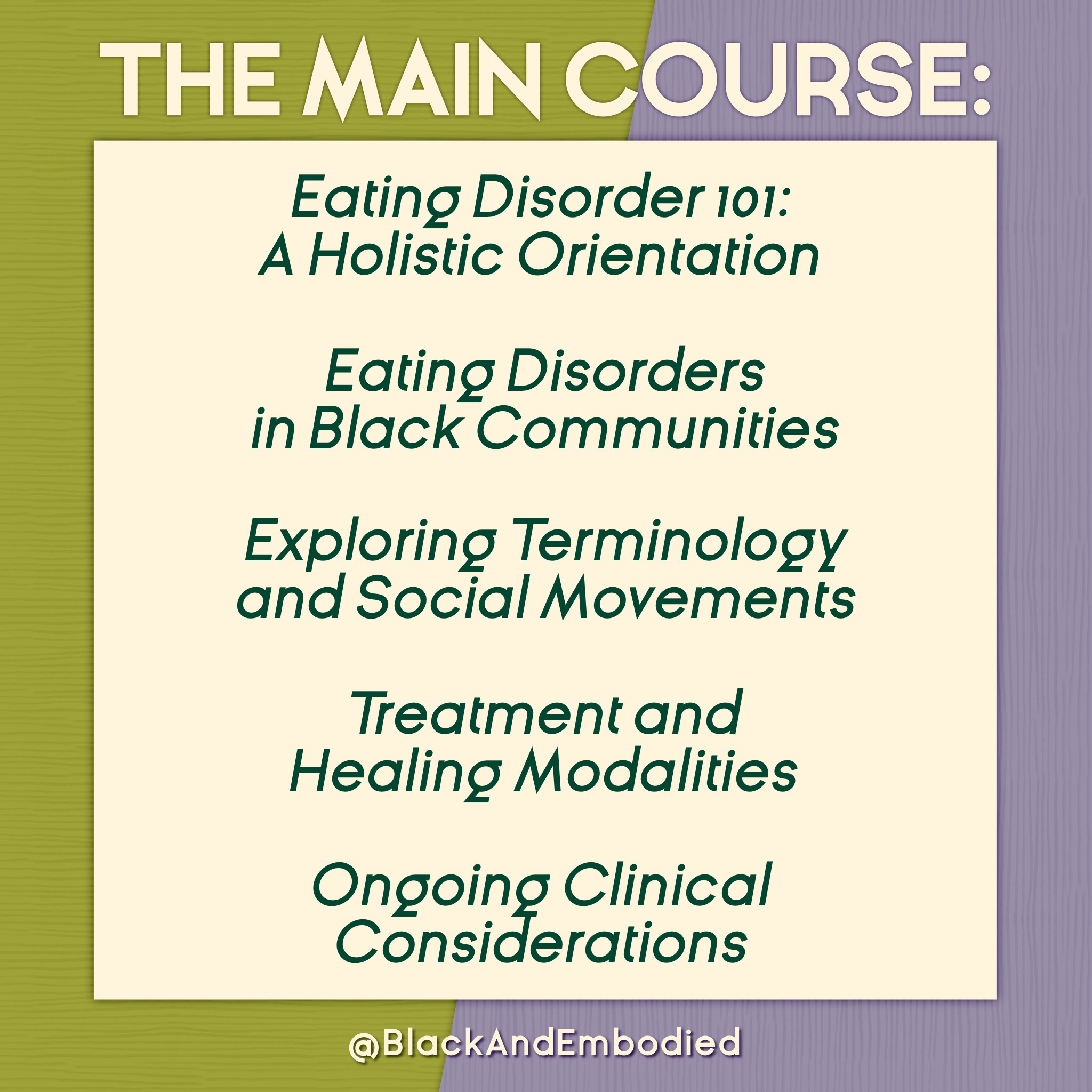 Accessible Payment Plans!
We offer payment plans that fit your unique financial needs. Scroll down to the bottom of the page to learn more.


Watch This Course Information Session to Learn More!
Learn from Alishia about what to expect on the journey ahead



How Do I Know It Is For Me?
This course is for you if you have been seeking to learn about eating disorders outside of the western medicalized model. This course is for you if you are seeking to transform your work from an embodied approach and you are finding that eating disorder recovery as it currently exist is not creating the substantial transformation for you and/or the folks you are working with. Learners will be encouraged to adopt a granular scope to their work and gain tools to support the advancement of eating disorder recovery.
Participant backgrounds: Mental Health Therapists, Dietician, Nurse Practitioner, Activist, Advocates/Influencers, Researcher, Professor, Entrepreneurs who specialize in eating disorders, Nutritionist, MD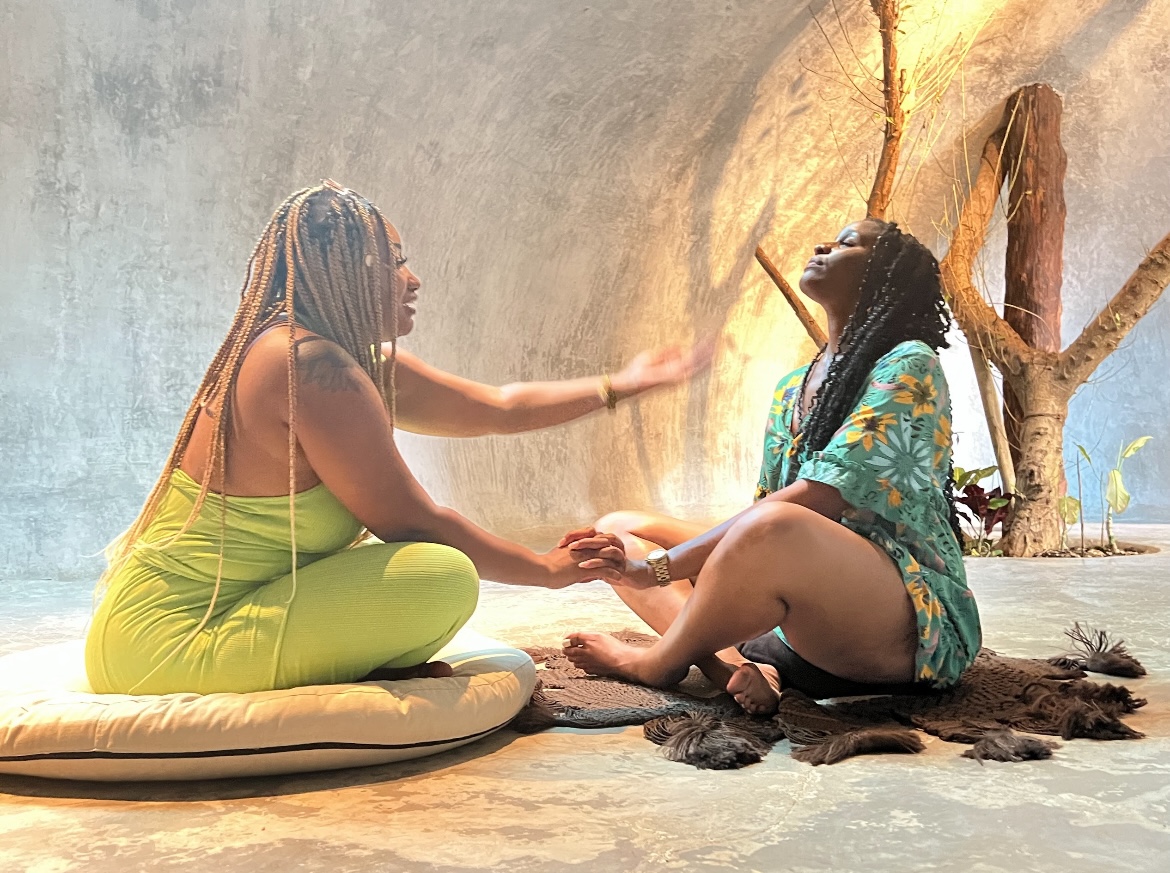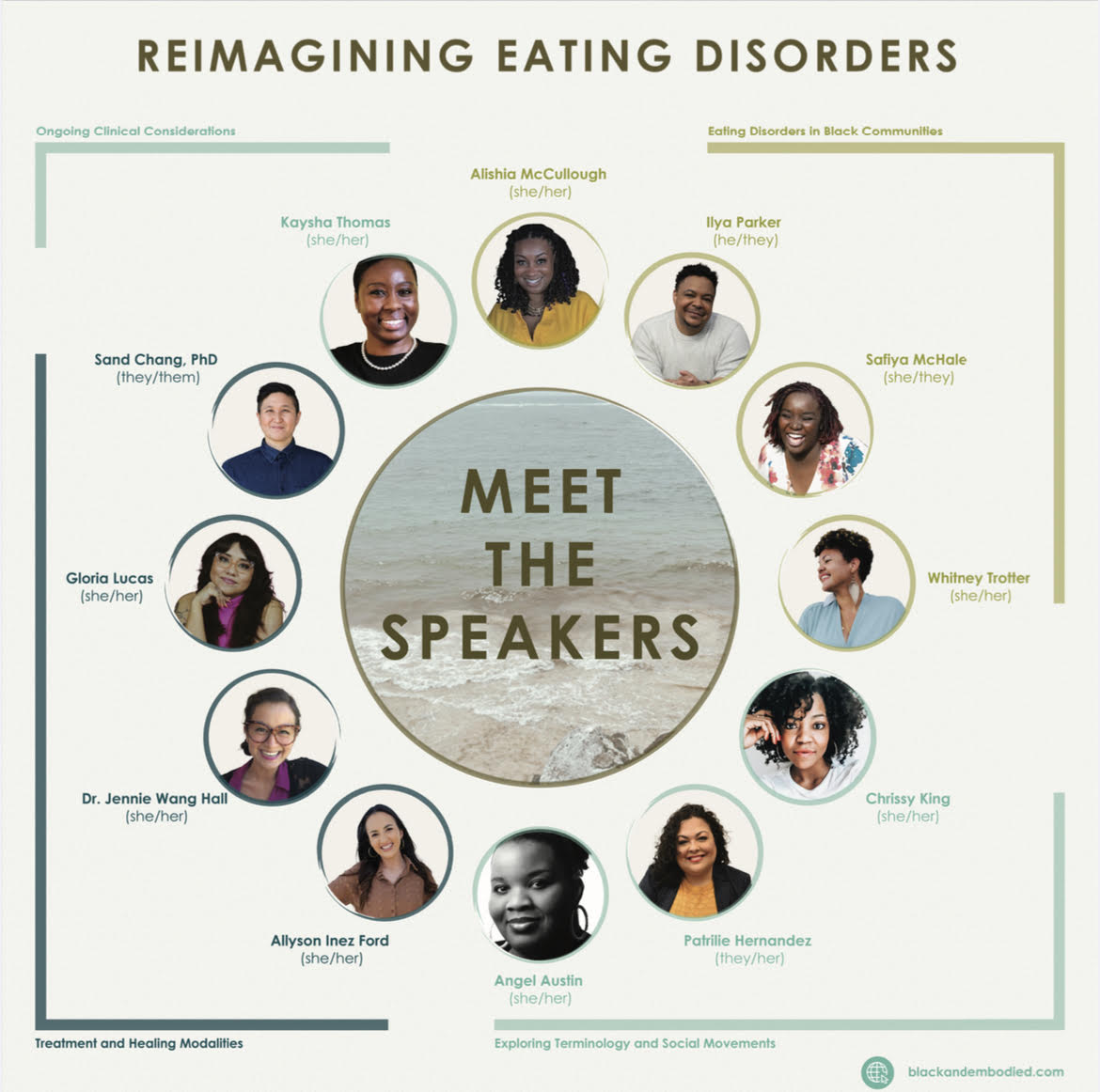 Meet The Featured Facilitators!
In addition to the course information, students will have the opportunity to learn from a few powerhouse leaders within the eating disorders field.
Eating Disorders in Black Communities
Ilya Parker (he/they) Founder of Decolonizing Fitness
Safiya McHale (she/they) Licensed Master Social Worker, Consultant
Whitney Trotter (she/her) Founder of Bluff City Health
Exploring Terminology and Social Movements
Chrissy King (she/her) Author of The Body Liberation Project™
Patrilie Hernandez (they/her) Founder of Embody Lib
Angel Austin (she/her) Founder of Sacred Space for Fat Bodies
Healing and Treatment Modalities
Allyson Inez Ford (she/her) Founder of Eating Disorder and OCD Therapy
Dr. Jennie Wang Hall (she/her) Founder of JWH Revolution Psychotherapy
Gloria Lucas (she/her) Founder of Nalgona Positivity Pride
Sand Chang (they/them) Psychologist, Equity Consultant, API Nonbinary Trauma Therapist
Ongoing Clinical Considerations
Kaysha Thomas (she/her) Registered Trauma-Informed Nutritional Therapist and Pilates Instructor
Review the facilitator bios pdf here




The Collective Why
Mainstream eating disorder education is oriented through a medicalized and western cultural lens. Education about eating disorders has been solely regulated through predominately white academic institutions and organizations. These academic institutions and organizations knowingly or unknowingly replicate systems of domination such as patriarchy, white supremacy, educational hierarchies/classism within their research, conceptualization, teaching and treatment of eating disorders.
Most of the trainers, teachers, and facilitators within the eating disorder field are white. These training programs often use outdated language, do not address privilege, and often pathologize the food and body relationship.
The research, understanding, teaching, and treatment of eating disorders has been normed and standardized on white bodies, and the field is years behind in addressing eating disorders in Black, Brown Indigenous, and People of Color (BBIPOC) communities.
Predominately white institutions and organizations often tokenize BBIPOC and other marginalized communities, to offer a "diverse" perspective while rarely investing in the systemic and institutional change required to address the experiences of BBIPOC.
Collectively, BBIPOC and white folks committed to liberation leave many of these trainings feeling unfulfilled and disconnected as we contend with the gap between our educational awareness and the lived experiences of the myriad of people we have the privilege of working with and alongside.
These experiences of unfulfillment and disconnection contribute to:
1) Underdevelopment of eating disorder education.
2) Low confidence and competence when working with eating disorders in BBIPOC communities, and any community that falls outside of the standardized norm of "white".
3) Increased eating disorder relapse due to clients/patients/people not getting the adequate support that they need.
4)Financial strain of investing in certifications that do not get to the root and origins of eating disorders.
5) Competent and creative BBIPOC providers leaving the eating disorders field due to burn out, and their and orientation to the work does not match up to the predominate white narrative.
6) Uncertainty with how to create a thriving and affirming eating disorder specialty business.
7) Treating training and education like a checklist to meet Continuing Education Credits (CEU) and other professional standards vs. an opportunity to expand knowledge holistically.
Reimagining Eating Disorders 101 is about offering a holistic orientation that integrates western, indigenous, embodied, community based education and wisdom. Eating Disorders are conceptualized from the personal, collective, historical, ancestral, psychobiosocial-spiritual lens to offer a comprehensive approach to this work and emergence.

Course Curriculum
Check out our information session below!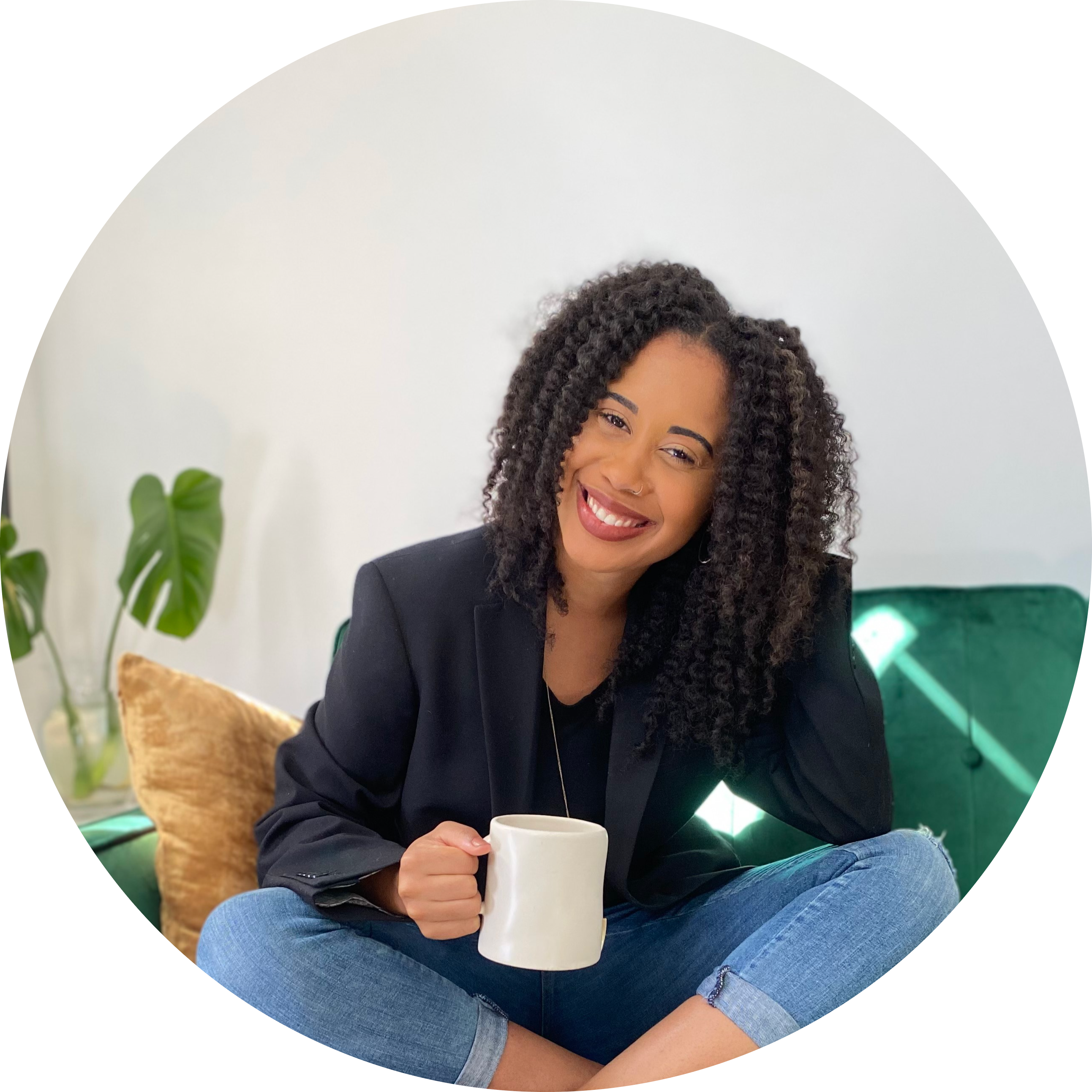 Testimonial
Kenya Crawford (she/they)

"I had previously attended a training by Alishia on Fatphobia in the Black community and I loved the way she facilitated the topic. Alishia's demeanor and energy creates a space of safety while also emphatically challenging you to push your clinical thought deeper. I knew that I'd not only feel safe in expressing what it was that I did not know while also gaining the tools and skills to better support my clients in healing from fatphobia. I personally felt more confident in supporting my client in somatically processing their shame around their body. "
Check your inbox to confirm your subscription
Frequently Asked Questions (FAQ)
How long will I have access to this course?
As long as this platform teachable exist with my paid account, you will have lifetime access to the material.
Is this course refundable?
No, all sales are final, there will be no refunds, returns nor exchanges on purchases.
What are the technology requirements for this course?
All of the training videos are hosted on zoom.
Are there any prerequisites to this course?
This course is friendly to beginner's and those who are advanced, the only prerequisite is an open mind :)
Will I get a credit or some type of proof for completing this course?
You will receive a certificate of completion. I do not offer CEU's or course credits.
What if I want to withdraw from the course?
You may decide not to engage with the material at any time; however you still need to maintain financial compliance until you have fully paid for the course.
What if English is not my first language?
The course is offered 100% in English. However, due to the digital nature of this training, you can take your time with the learning material and make use of tools such as google translate and Grammarly to help assist you. I would love to get this course translated.
What student and course support will I receive?
Students can reach out to Alishia McCullough directly through the student portal for any questions or concerns. For teachable specific support please review https://support.teachable.com/hc/en-us
Is this course interactive?
This course is pre-recorded, however there are options to journal, meditate, and self-reflect.
Is this course only for providers in the eating disorder field?
No, this course is also for activist and advocates who would like to explore a holistic approach to understanding and working with eating disorders.
Is there any "live" instruction?
No, all sessions are pre-recorded and self-paced.
Are there in person trainings?
Very limited availability, email: [email protected] and visit my website: blackandembodied.com for current offerings.

A Special Thank You To Our Team
Amber McCullough (she/her) Asset Designer | IG: @ambermstudio
Dan Casey (they/them) Content Creator | IG: @drawingoncommunity

Ilya Parker (he/they) Video Transcriber | IG: @decolonizing_fitness

Kenyatta Muzzanni (she/they) Strategic Consultant | IG: @k_muzzanni